ALPARC also works to raise awareness among and inform the general public and local residents about the importance of the natural and cultural heritage of the Alps and the need to preserve that heritage.
To this end, ALPARC and the Communication working group , with the assistance of the Protected Areas Task Force, have defined a common communication strategy for the Alpine protected areas together with a Corporate Design for the shared communication resources.
Thus ALPARC is involved in developing a range of shared resources and communication campaigns for all protected areas in the network: the online portal (www.alparc.org), documentation, travelling exhibitions (Mythical Mountains, Return of wilderness, information displays), standard communication resources for the general public (postcards , flyers, etc.), and most recently, a spectacular tool, ViViAlp – The Alps from the air . From 2008, this virtual tour of the protected areas in the Alps has been available in many visitor centres in the Alps and online via Google Earth.
---
Resources linked to the article

ALPARC Postcards Series *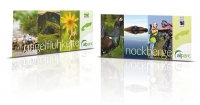 Since 2007, the Alpine protected areas present themselves to the public and show their involvement in the Alpine Network of Protected Areas - ALPARC and their engagement in the international cooperation for the protection of the Alps through this ALPARC postcards serie.
The postcards are distributed for free in the visitor centres of many protected areas as well as at the occasion of local events or also during the international events organised by ALPARC.
Concept: Working Group "Joint Communication" of ALPARC Network
Coordination: ALPARC
Graphic design: Montagne créative , Régis Ferré and Fabienne Mathray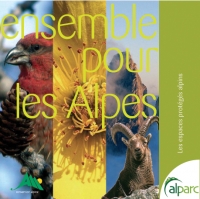 The new leaflet to present the network ALPARC
Year 2008
Language FR, DE, IT, SL, EN