The EUSALP French presidency was officially launched on February 4th – ALPARC's President and Director took part in the ceremonies.
The launch of a new Alpine presidency
A great event took place in the city of Lyon for the official passing of the EUSALP presidency previously held by Italy. This was done at the honourable presence of Elisa Ferreira (European Commissioner for Cohesion and Reform), Jacqueline Gourault (Minister responsible for Territorial cohesion and Relations with local authorities) and with the interventions of Laurent Wauquiez, Renaud Muselier Marie-Guite Dufay that are respectively presidents of the Regional Councils of Auvergne-Rhône-Alpes, Provence-Alpes-Côte d'Azur, Bourgogne-Franche-Comté.
This was the occasion to strengthen France's political commitment towards its Alpine regions and towards the Alps on the international scale. Indeed, this particular region can benefit from transnational cooperation and a cohesive development planning since challenges and opportunities throughout the Alps are broadly the same.
Round table "What are the challenges for biodiversity?"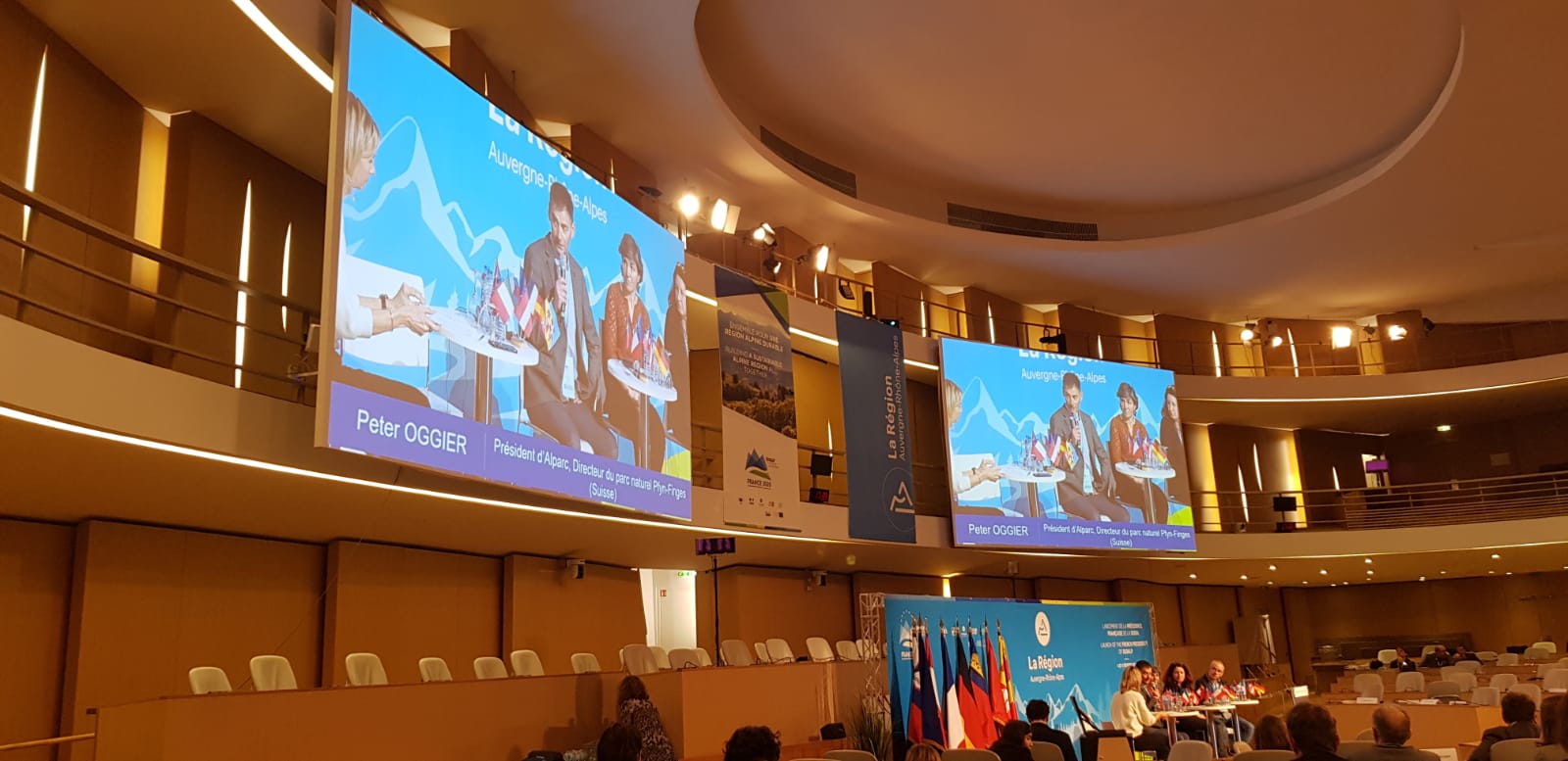 In this context, Peter Oggier, ALPARC's President, took part to the round table on biodiversity that was organised during the afternoon. Biodiversity preservation and in general nature conservation are of fundamental importance in a time of climate change. The ecosystem services that nature protection provide us with are of priceless value. ALPARC's role within the French presidency of the EUSALP is to enhance protected areas management through international projects and to provide its expertise where needed for a more resilient Alpine environment.
What's EUSALP?
The European Union Strategy for the Alpine Region (EUSALP) brings together seven countries and almost 48 regions. For these countries, the Alps, including their foothills and lowland areas, are both a distinct advantage and a particular challenge. Highly vulnerable to the consequences of climate change, the Alpine region needs answers quickly. The EUSALP encourages innovative approaches to the specific needs of mountain regions in terms of tourism, biodiversity, agriculture, mobility and energy (among others).
For further information on EUSALP please see https://www.alpine-region.eu/